The British Rail Class 119 DMUs were used throughout the Western Region and on services in the Midlands sourced by Tyseley Depot. Shortly after their introduction, sets were transferred from Cardiff to serve the intermediate stations on outer suburban services from London Paddington to Oxford. These were as 7-car sets, with the addition of Hawksworth composites adapted to run as DMU trailers. Sets worked over most of the Western Region, notable early use being the last passenger train over the Plympton branch. Minehead, Calne and Bridport branches that have since closed were also served by the sets, which also covered main line services in company with the Swindon Cross Country sets. Visually, the body design was based on the Swindon Cross-Country sets, but with a Derby cab. As with most asbestos contaminated stock, there were heavy withdrawals, but a number were rebuilt internally after asbestos removal. The rebuilt sets were concentrated on Reading and the Reading-Gatwick link.
PRICE
3 Car – £370
Fitted with Hornby DCC ready chassis
LIVERY OPTIONS
BR Standard Green with white whiskers
BR Standard Green with small yellow panel
BR Grey over Blue Full Yellow Ends
PRICE
£60
Comprises :
Bodyside Overlays
Resin Cabs
Underframe and other ancillary parts as illustrated
To complete requires :
Mk1 coaches : TSO/SO x3
Mechanism : Hornby Class 121
Paint
Transfers
Instructions included.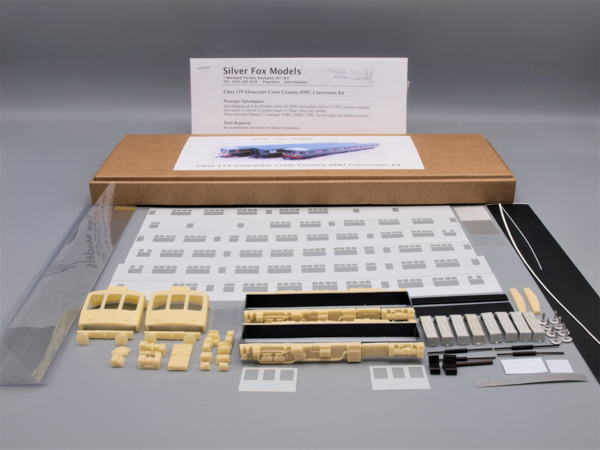 PRICE
£21
Comprises :
Bodyside Overlays
Glazing
Vinyl Door Handles
Guard and Driver Grab Rails
Instructions included.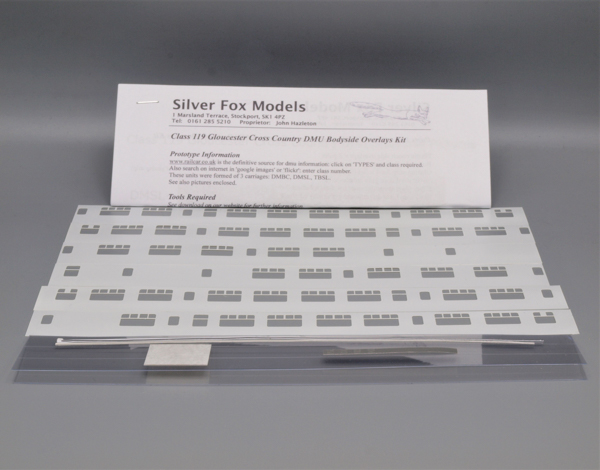 PRICE
£12 each
Comprises :
Resin Cab End
Flush Glazing