The Class 123 was a design of Diesel Multiple Unit built for British Rail in 1963. They were built by British Rail at Swindon Works, and designed like all Swindon units as inter-city sets. Ten of the four-car sets were built and introduced in 1963.
Swindon-built DMUs, including the Class 123 and 124, had a structure and internal construction with much more in common with BR Mk1 coaching stock than they do with many DMU classes. The carriage underframes were standard main-line 63 ft 6 in frames, as opposed to the 57 ft 0 in frames common to most 1st generation DMUs. The units were provided with Mk1-style "Pullman" gangways instead of the "British Standard Gangways" fitted to most contemporary DMUs of the period. It was also unusual for a first-generation DMU to sport a front end gangway. None of these units have made it to preservation.
3 Car – £370
4 Car – £460
Fitted with Hornby DCC ready chassis
LIVERY OPTIONS
BR Standard Green with Yellow Connectors
BR Grey over Blue Full Yellow Ends
£72.00
Available in two versions.
Either with Buffet Car or Second Open Intermediate Trailer
Comprises :
Bodyside Overlays
Resin Cabs
Underframe and other ancillary parts (see photo opposite)
To complete requires :
Mk1 coaches : TSO/SO x2, CK x1, SK x1
Mechanism : Hornby Class 121 or Replica Railways 64′ Powered Chassis
Bogies : B4 (trailer cars), B5 (power cars)
Paint
Transfers
Instructions included.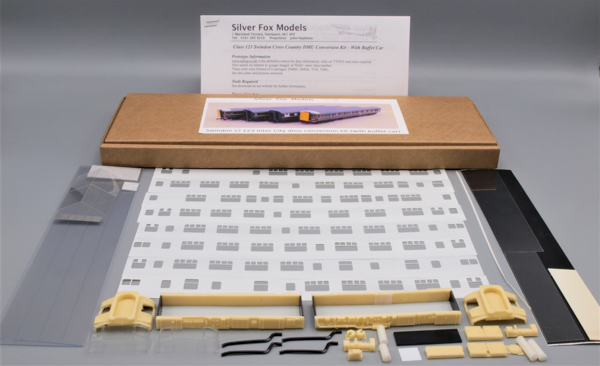 £12
Comprises :
Resin Cab End
Flush Glazing