The Class 126 were developed from the similar unclassified 79xxx units.  They were designed to be run as 3car or 6 car units and to facilitate this, uniquely one end was built with a corridor connection.  They able to work with earlier versions as they were built with 'white star' code couplings.  The Class 126's were used on the Glasgow to Ayrshire route.
PRICE
3 Car – £370
Fitted with Hornby DCC ready chassis
LIVERY OPTIONS
BR Standard Green with with Whiskers
BR Standard Green with Small Yellow Panel
BR Standard Blue Full Yellow Ends
BR Grey over Blue Full Yellow Ends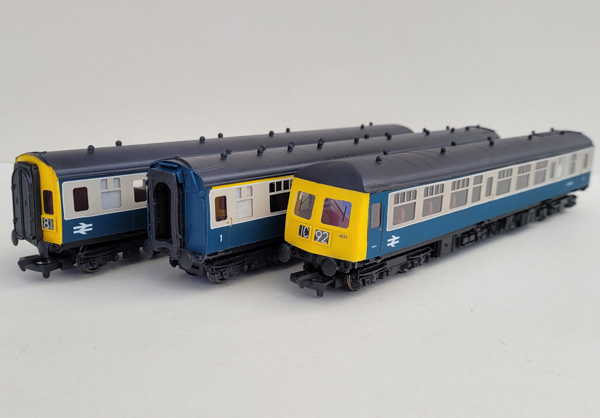 £60.00
Available in two versions. Either with Buffet Car or Corridor First/Composite
Comprises :
Bodyside Overlays
Resin Cabs
Underframe and other ancillary parts (see photo opposite)
To complete requires :
Mk1 coach : TSO/SO x 2, CK x1
Mechanism : Hornby Class 121 or Replica Railways 64′ Powered Chassis
Paint
Transfers
Instructions included.