The Class 124 was specially designed to work the Trans-Pennine route. They were built by British Rail at Swindon Works, and designed like all Swindon units as inter-city sets. Eight of the six-car sets were built and introduced in 1960.  Each set had four power cars with two 230hp Leyland Albion engines in each to cope with the steep gradients on the route.  They were all based at Neville Hill initially.
Swindon-built DMUs, including the Class 123 and 124, had a structure and internal construction with much more in common with BR Mk1 coaching stock than they do with many DMU classes. The carriage underframes were standard main-line 63 ft 6 in frames, as opposed to the 57 ft 0 in frames common to most 1st generation DMUs. The units were provided with Mk1-style "Pullman" gangways instead of the "British Standard Gangways" fitted to most contemporary DMUs of the period. The Class 124 was easily distinguishable by its wrap around windscreens.
These sets were not kept in fixed formations and were gradually reduced in size from six to four and then 3 car units, with a number of non-driving motor cars rebuilt as trailers and renumbered.  Six car units ran as DMC-MBSK-TSL-TFLRB-MBSK-DMC.
None of these units have made it to preservation.
PRICE
4 Car – £460
5 Car – £550
6 Car – £640
Fitted with Hornby DCC ready chassis
LIVERY OPTIONS
BR Standard Green with white whiskers
BR Standard Green with small yellow panel
BR Grey over Blue Full Yellow Ends
PRICE
£96
Comprises :
Bodyside Overlays
Resin Cabs
Underframe and other ancillary parts as illustrated
To complete requires :
Mk1 coaches : TSO/SO x3, CK x1, SK x2
Mechanism : Hornby Class 121 or Replica Railways 64′ Powered Chassis
Paint
Transfers
Instructions included.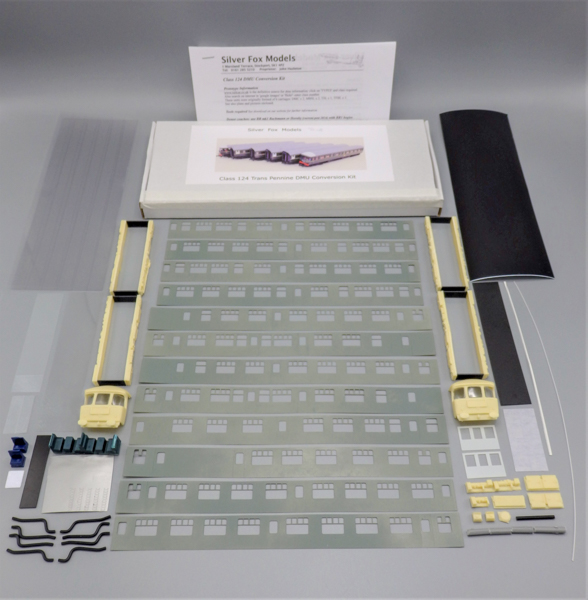 PRICE
£42
Comprises :
Bodyside Overlays
Glazing
Vinyl Door Handles
Guard and Driver Grab Rails
Instructions included.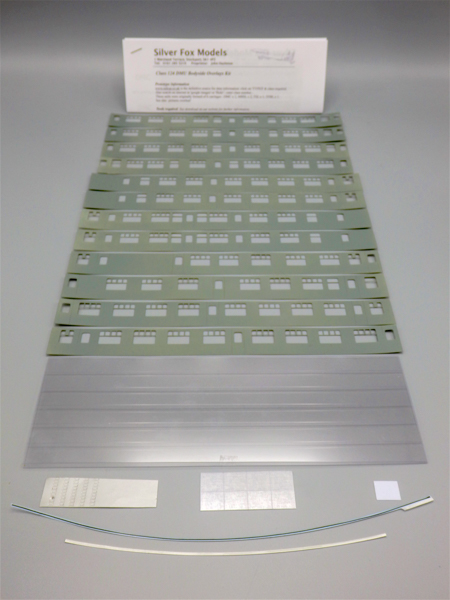 PRICE
£12 each
Comprises :
Resin Cab End
Flush Glazing